Embarking on another remarkable venture, the renowned Domenica Group proudly presents Sunset Villas. As a trusted and authoritative force in the construction and land development industry, the group has curated a luxurious project that redefines opulent living.
Nestled on former vineyard land, Sunset Villas offer unobstructed sea views from every corner, creating a captivating ambiance. Situated in the picturesque village of Kisonerga in Paphos, the villas are conveniently located just 2 km from the nearest school, 200 m from the beach, 100 m from the golf course, and a mere 1 km from the nearest supermarket and the new Marina. Perched on a hillside, the villas boast breathtaking vistas of the Mediterranean Sea, providing an idyllic and tranquil setting.
Within a 2-minute drive, residents will find an array of restaurants, pubs, beach bars, and 5-star hotels. Coupled with the promise of mesmerising sunsets viewed from lush gardens, Sunset Villas epitomise the ultimate luxury living experience in one of Cyprus' most enchanting locations. Anticipated for completion in 2024, this project sets a new standard of elegance and refinement.
The villas have been meticulously designed to offer both comfort and luxury, boasting high-quality finishes throughout. The project includes bungalows and two-story villas with private covered parking spaces, situated on expansive plots. Residents have the option to enjoy a roof garden and a private swimming pool, further enhancing their living experience.
Each villa within the Sunset Villas project showcases a unique style that resonates in both exterior architecture and interior design. Ranging from three to five bedrooms, these villas feature private pools and beautifully landscaped gardens. The interiors are spacious, flooded with natural light, and thoughtfully designed with meticulous attention to detail, creating a harmonious blend of comfort and style.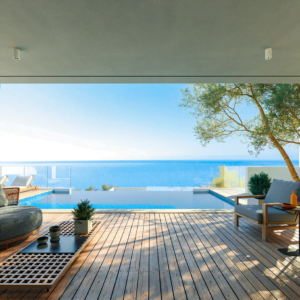 Built to the highest construction standards, Sunset Villas boast top-quality materials throughout. The integration of natural elements such as stone and wood creates an ambiance of warmth and coziness, complemented by contemporary design elements characterised by sleek lines and minimalist aesthetics.
Notably, the Sunset Villas project prioritises sustainability. The villas are designed to be energy efficient and eco-friendly, incorporating features such as solar panels and double-glazed windows to reduce energy consumption and minimise carbon footprint. The project also includes communal green spaces, featuring gardens and walking paths, promoting a healthy and active lifestyle.
Scheduled for completion in 2024, Sunset Villas have already commenced pre-sales, offering a golden opportunity to own a slice of luxurious living in a breathtaking setting.